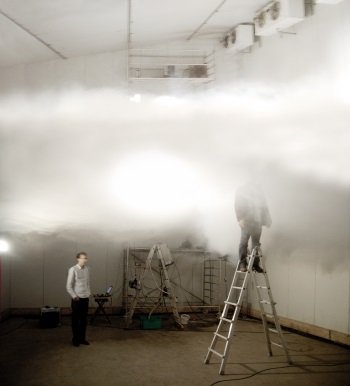 I have a new project in "Dynamics of Air", an upcoming exhibition at RMIT Gallery, curated by Malte Wagenfeld and Jane Burry. The exhibition opens on Thursday 13 September from 6-8pm, and runs until 17 November 2018. The show features works by Transsolar, Natasha Johns–Messenger, Leslie Eastman, Cameron Robbins, Philippe Rahm Architects, Breathe Earth Collective, Edith Kollath and many others.
"Bringing together leading local and international artists and designers, the exhibition explores the critical role that air plays in designing for a zero carbon future, and how radical innovations can make way for creative sustainability in design and the built environment. The exhibition will engage with the interface of air, lived space and architecture, and will showcase how designers, artists, scientists and researchers work with the intangible atmospheric medium: air."
Image credit: Transsolar, Testing Cloudscapes.